Another thing I'm participating in this summer is the Summer TBR Wipeout – this can be easily combined with other challenges because really, the only thing that matters is that you read as much as you can.
I already talked about my TBR for July in my Ambitious July Plans post (includes my TBR  for my OWLs!) as well as my Sci-fi July post, and I also hinted that in August, I'd be doing my NEWTs (after hopefully finishing my OWLs in July).
Since the NEWTs are so challenging, they will likely make up most of my August TBR by themselves because I don't think I'll have time to read anything more. It's so far away that my TBR will likely change, but here's a sneak peek anyway!
I mentioned I'd be participating in Books & Tea Book Club's graphic novel readathon in July, but I didn't actually post a TBR for it, so let me use this opportunity to talk about just a few graphic novels I'm hoping to get to.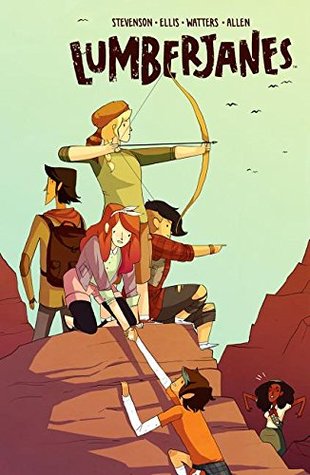 This is one graphic novel series that literally everyone recommends if you ask for queer comic recs. I have read the first Volume already, and frankly, I didn't like it that much, but I hear that it improves later. I have the next three volumes, as well as a bunch of specials/bonus stories, so I hope to read the entire series this summer. It also takes place in a camp, so it's a perfect summer read.
I barely know anything about this other than the fact that it's about young women in college, the first volume has a beautiful yellow cover, and I think one of the mains is sapphic? I have the first three volumes of this, so I'll be reading those.
Not only does he gain great, lifetime friends, Jory is also introduced to an entire magical world that lives beyond the curtain. I only have the first volume of this, but it has queer boys, theatre kids, and fantasy-magic elements, so honestly that's enough for me.
Earth sucks. The stars have been blocked out for so long that people have forgotten there was anything else besides the World Government Alliance watching over them. When Uma Akkolyte jacks an alien spaceship and punches through the stratosphere she sets forth on an adventure with an unlikely crew who are totally not ready for all the good, bad, and weird the universe will throw at them. Sci-fi with an unlikely crew and apparently a queer main? Give it to me!
In the early hours after Halloween of 1988, four 12-year-old newspaper delivery girls uncover the most important story of all time. Suburban drama and otherworldly mysteries collide in this smash-hit series about nostalgia, first jobs, and the last days of childhood. It's a little weird that this is about 12-year-olds because the girls on the cover look older to me (especially with the cigarette??), but I'm excited to read this nonetheless.
+ Hopefully many others! Seriously, I bought two separate comic bundles on Humble Bundle in the last few months, so I have SO MANY graphic novels in my library that I want to get to. Next month is the perfect time to do this, although my OWLs will come first.
What are some of your favourite graphic novels or comics? Also, is there a difference?! I have no idea.
~ Alexa