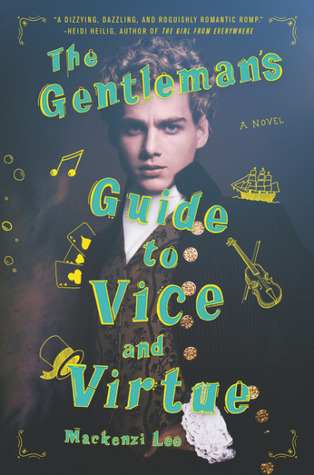 Title: The Gentleman's Guide to Vice and Virtue
Author(s): Mackenzi Lee
Series: Montague Siblings #1
Genre: Historical Fiction, LGBTQAI+
Published: June 27th 2017 by Katherine Tegen Books
LGBTQAI+: bisexual protagonist, biracial + bisexual male love interest, a-spec side character (the latter is not detailed in this book, but there are hints)
Henry "Monty" Montague was born and bred to be a gentleman, but he was never one to be tamed. The finest boarding schools in England and the constant disapproval of his father haven't been able to curb any of his roguish passions—not for gambling halls, late nights spent with a bottle of spirits, or waking up in the arms of women or men.

But as Monty embarks on his Grand Tour of Europe, his quest for a life filled with pleasure and vice is in danger of coming to an end. Not only does his father expect him to take over the family's estate upon his return, but Monty is also nursing an impossible crush on his best friend and traveling companion, Percy.

Still it isn't in Monty's nature to give up. Even with his younger sister, Felicity, in tow, he vows to make this yearlong escapade one last hedonistic hurrah and flirt with Percy from Paris to Rome. But when one of Monty's reckless decisions turns their trip abroad into a harrowing manhunt that spans across Europe, it calls into question everything he knows, including his relationship with the boy he adores.
"I flirted my way into this mess and I'm going to flirt my way out of it"
– Monty, probably
My rating: 5 stars
It was strange to read this book right after Six of Crows (a hyped book that ultimately disappointed me) because this one is just as hyped and I loved it exactly as much as everyone said I would.
The Gentleman's Guide had everything I personally wanted or needed: a bisexual protagonist, a biracial love interest, an incredibly soft friends-to-lovers romance with some mutual pining and slow burn, a girl who just really wants to be a doctor in the 1700s, a complicated sibling relationship, and complex characters all around. Also, travelling, and specifically travelling while being chased because you accidentally uncovered a huge secret and now that you're in this mess you just have to see it through.
I was in love from the first scene, which was a little strange, because I usually find it uncomfortable to read about characters being drunk or hungover. Still, Monty does it so endearingly and Mackenzi Lee writes so nicely that I only found the opening funny and captivating.
Perhaps I am trying to procreate with all these lads and I'm just very misinformed about the whole process. If only Eton hadn't thrown me out.
At first glance, Monty is the epitome of the privileged rich, white, abled guy who – despite having good intentions and not being intentionally mean – has many flaws and misconceptions about disabled people and people of colour. He himself states at the beginning of the novel that he's had an easy life, and nothing bad has ever happened to him. And yet, it doesn't take too long to find out that it's not true at all: he's been emotionally and physically abused, he's been made to feel inadequate and trapped, for more reasons than "just" for lying with men. There were many scenes in this book where I found myself mad at Monty, but in the end I loved how he had plenty of flaws and you could see him try to do better and improve when he clearly had a long way to go. He was very relatable, and I never thought I'd relate to a rich kid from the 1700s.
I don't know how Felicity knows what bones are meant to feel like.
I'm also not clear how Felicity knows the best way to throw a punch.
Felicity is a teenage girl who longs for a proper education and medical school, and watches her brother throw away the opportunities that she'll never have because of her gender. She is also an incredibly funny and headstrong girl who cares about both Percy and Monty, even if they don't get along with the latter. I can't wait to see a book from her POV in the sequel, because words cannot describe how amazing she is. She was also very relatable, mainly in her love of books and not being good at parties.
Lucky for me as well, or else we might never have met, and then what would have been the point of my life?
With Percy, I'm a little conflicted. I felt like he didn't have much personality outside of being biracial and experiencing racism + his relationship with Monty + a spoiler-y disability that becomes an important plot point. Of course, these are all big things and part of his identity (and I loved how living as a dark-skinned man and as a disabled man in the 1700s was addressed), but I still felt like something was lacking.
The only complaint I really have that this book had two different jokes about slitting your wrists, which is both unnecessary and something I'm personally pretty sensitive about, so it wasn't pleasant to read. (I know it's a little contrary, because joking about being dead or even killing yourself is something depressed/suicidal people often do as coping, but here both of the wrists comments felt kind of careless and very different from the heavy scene where Monty says he wants to die.)
warnings: significant homophobia and racism because of the time period, physical and emotional abuse by a parent, the aforementioned suicide jokes
~ Alexa