1.) Count Your Birthday Along Your Bookshelf and Then Subtract Your Birth Month
I went to my LGBT shelf, counted 15, then substracted 12 – and so, I landed on… Everything Leads to You by Nina LaCour?! Definitely a fitting title. Maybe it was meant to be. It has one of the best covers, and I love touching it.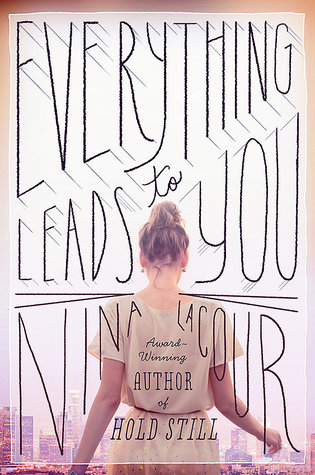 2.) If You Could Spend Your Birthday With Any Fictional Character Who Would It Be and Why?
Okay, maybe this doesn't count, but I would actually love to spend my birthday with my own original characters? I have one of them in particular, Alicia who is special to my heart and I love inserting her into new worlds, so… yeah.
Alternatively, it might be fun to meet Magnus and Alex. I've never eaten falafel before and I genuinely don't know what it's made of, but they make it sound so good. And it would be nice to bond over being bi/pan and enby.
(art by martsy-m)
3.) Find A Book That Takes Place In The Season You Were Born In
I suppose any Christmas book would work for this, but I'm not really a big fan of winter. I read The Tenderness of Wolves forever ago, and I barely remember any of it, but I've been meaning tore-read it… and it definitely takes place in winter.
4.) Find A Book That Is The Color of Your Birthstone
The three birthstones for December are tanzanite, zircon and turquoise, all different shades of blue. Another book I've been meaning to re-read is The Amulet of Samarkand, which is the first in a trilogy I used to love by Jonathan Stroud.
5.) Pick A Book Set In A Time Period, World, or Country You Would Like To Have Been Born In
I definitely wouldn't like to have been born in most fantasy worlds, seeing what all those protagonists go through. I also wouldn't like to visit the past, thank you very much! The present is bad enough for queer people.
I suppose I'd like to live in the world of Failure to Communicate, because there are many cool alien– no, nevermind, I just remembered what they did to literally all mentally ill people. Man, this question is tougher than I thought. I love the island setting of If I Loved You Less, but let's be real, I'm not made for an outdoorsy smalltown life?
Going to Scotland and falling in love with a hot Duke sounds pretty awesome though, and Portia keeps all the advantages of the internet and social media, so I think I found my choice in A Duke by Default!
I would love to look back on this in a year and see if anything changed. Happy birthday to me!
~ Alexa