EMOJI STATISTICS
🌍 Around the Year in 52 Books: 5
🍬 Popsugar Reading Challenge: 5
🧚 Cornerfolds Retelling Challenge: 0
📚 #BeatTheBacklist Bingo: 12
🏮Year of the Asian Challenge: 2
🍄 Fantastic February: 7
🦊 Total: 21
STATE OF THE ARC
State of the ARC is a monthly meme at Avalinah's Books meant to motivate you to finish up all your long overdue ARCs (Advanced or Early Reader Copies).

State of the ARC has a Goodreads groups ARCs Anonymous. Join it here.
🦄 Review copies read: 4
🐇Review copies remaining: 13
As you can see, I'm almost done with the bingo, but the "oldest ARC" square is one I struggle with. My oldest ARC is actually a sci-fi anthology that I started, but I keep putting it aside to read something else.
Since the bingo is for 6 months and I'm almost done, I think I'll try my best to fill the last square in March, and then maybe re-start it again – so try to do it twice in the 6-month period. I don't know if I'll have another book for some of the squares, but hey, it should be a challenge, right?
POSTS ON THE BLOG THIS MONTH
READING HIGHLIGHTS
🏳️‍🌈 LGBTQAI+ representation
💐 POC/Indigenous representation
🌱 Disabled or Mental Health representation
💐 Kindred by Octavia E. Butler: This book is a classic – called the first science fiction by a black author, although it felt more like fantasy to me, even with the time travel. It's about a black woman married to a white man in 1976 (present time when the book was written) whose fate is tied to her white, slave-owning ancestor in the 1800s, and it's a brutal read about slavery and racism. I never realised how easily people could be trained to accept slavery is a quote that might sum it up nicely. Also, just look at that beautiful cover.
Wyrd Sisters by Terry Pratchett: Wyrd Sisters was my first Discworld book, and while it's not my favourite ever, I can definitely see the hype. I'm planning to check out more Discworld books later, although I'm not making any promises to read all 40. I'm mostly going for the Witches, Death and Tiffany Aching books.
🏳️‍🌈 Green Toes by Avery Flinders: This was actually a re-read of an old favourite, but it's still just as good – which is why it made it to the top 10 list I posted this month. In just 30 pages, it tells the story of  a young bisexual woman, her search for a community that understands her identity, her romance with a genderqueer person, and even her magic  gardening boots.
A Local Habitation by Seanan McGuire: Since I bought Rosemary and Rue, the first book in this series last year and then didn't get around to reading it, I figured I might as well join Louise's A Daye a Month… book club? Readalong? I'm not sure. Then, of course, I ended up completely falling in love with the series, so now I'm actually having trouble with only reading one a month because I'm so impatient.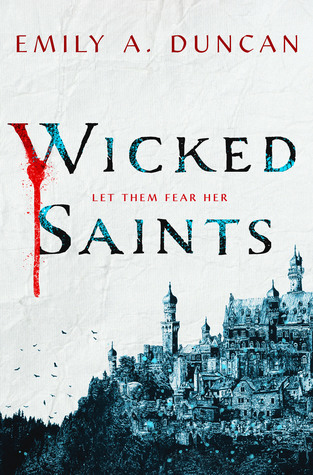 🏳️‍🌈 Forbid the Sea by Seanan McGuire: Yes, this is a short story in the same series as the book above – but it centers my favourite character ever, who is also revealed to be bisexual in this quite tragic short story. I really hope that will be brought up in the main books as well! I'm only on Book 2 out of 13, so there's plenty of time for it.
🏳️‍🌈💐 Love Beyond Body, Space and Time edited by Hope Nicholson: This #ownvoices indigenous queer anthology really deserves more love, and I'm glad I finally got to read it. The editor isn't indinegous, but all of the authors in the anthology are.
Wicked Saints by Emily A. Duncan: I have emotions about all three of these main characters and their dumbass decisions. Please help. Also, look out for my 5-star review on March 31st during the blog tour.
NEW BOOKS THIS MONTH
NetGalley
Bought
~ Alexa