In the last two weeks, I watched at least fifteen different people on my dash do this tag. I sat down to write my own post at least three times, then abandoned it halfway because it was way too long and I just didn't feel like doing it. And yet, after seeing Lia do it, I finally caved.
If you've been following my life on some kind of social media, then you already know that I took a year off uni and didn't manage to find a job (long story full of regrets, please don't ask about it), so I've been at home doing basically nothing since last June – but hey, it left me plenty of time to read! As of writing this post, I have read 143 book-like things this year according to Goodreads (including plenty of short stories and graphic novels). Out of these books, I rated 47 a full 5 stars (or 4.5… since Goodreads doesn't have half stars), and 21 made it to my favourites shelf.
That's enough for the intro, so let's get to the questions! Most questions have several answers and I refuse to narrow them down, don't judge me.
The best book you've read so far in 2018
Akata Witch by Nnedi Okorafor
This book was introduced to me as the "Nigerian Harry Potter", and as much as I'm bitter about Harry Potter, it's an accurate description. Only it's better. It's about a 12-year-old albino Nigerian kid who learns magic with her friends and it's amazing. It's also part of a duology, which is a bonus because the duology is my favourite series-length.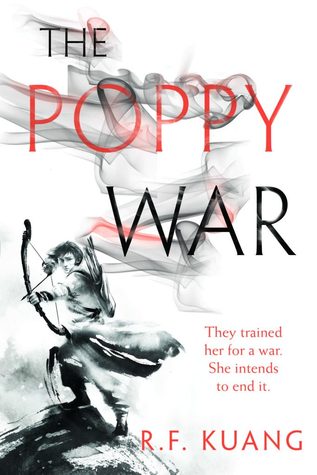 The Poppy War by R.F. Kuang
I simultaneously feel like this book is on everyone's lists and still not enough people talk about it? It's a brutal alternate history/fantasy novel based on a real historical event, The Rape of Nanjing, and it's full of triggers but also very important topics. Be aware that despite the protagonist's age, this is very much an adult novel and not YA by any means. It is also apparently first in a series, and there is at least one question I really want to get answered in the sequel.
All Systems Red by Martha Wells (link is to my own review)
Be prepared, because this series will be mentioned in this tag at least five times. Are you ready? Good. The Murderbot Diaries are one of my favourite sci-fi series I ever read, with a relatable, wonderful AI/android protagonist with anxiety who cares about its humans so much but would probably not admit it outright. Its also incredibly sassy and just wants to watch Netflix in peace. Me too, Murderbot.
The Queen of Ieflaria by Effie Calvin (link is to my own review)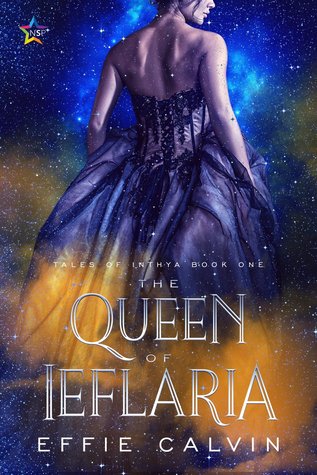 I will literally never stop screaming about this book because it's the F/F fantasy series with magic and princesses that we all deserve. (Note: the second book, coming out later this year, will not have the same characters but it will still be the F/F fantasy we all deserve.) The Queen of Ieflaria has pansexual princesses, talking unicorns, dragons, princesses fighting duels in pretty dresses, and all kinds of awesomeness.
Your favourite sequel of the year
The Ship of the Dead by Rick Riordan
I fully admit that I'm not into Norse mythology as much as Greek mythology and thus this series fell a little flat for me, but also nobody can ever be better than Alex Fierro and this is fact. This book had lots of Alex and also queer romo things that I loved.
Artificial Condition by Martha Wells (link is to my own review)
Here's the second mention of this lovely series, are you counting? The second book of the Murderbot series has a different cast of characters than the first, but of course it still stars Murderbot, my favourite anxious android who tries its best to blend in as a human and also find out secrets about its past and also befriend other bots.
The Lifeline Signal by RoAnna Sylver (link is to my own review)
You should already know by now that no list of mine can be complete without RoAnna. The Lifeline Signal was just as queer, disabled, hopeful and beautifully chaotic (in a good way!) as the first one. I do recommend reading Life Within Parole between the two books if you actually want to understand who is who, but man, this sequel was great. And gradually identifying all the characters on the cover is fun.
A new release that you haven't read but really want to
Glass and Gardens: Solarpunk Summers edited by Sarena Ulibarri
I discovered solarpunk earlier this year and was lucky enough to get a review copy of the Sunvault anthology, which I absolutely loved. So when I saw this book was coming out, I pre-ordered it immediately… and still haven't read it. I should, though. Solarpunk is a type of optimistic science fiction that imagines a future founded on renewable energies. It is also essentially a rebellion against the capitalistic, hateful, environment-destroying hell we're currently living in. Yay.
To Kill a Kingdom by Alexandra Christo
I wasn't sure what else to put in this category, but a Little Mermaid retelling with murderous mermaids? Sign me up. Little Mermaid retellings have always been my jam, so I'm really excited for this one.
Most anticipated release for the second half of the year
Quick shout out to other two novellas in the Murderbot series, Rogue Protocol and Exit Strategy, because I'm looking forward to them both but this post is long enough already.
An Assassin's Guide to Love and Treason by Virginia Boecker
No, this has nothing to do with Mackenzi Lee (seriously, what's with all the X's Guide to Y and Z titles?) but it IS a historical fiction Shakespeare retelling with assassins and spies so honestly just give it to me right now immediately please.
Outrun the Wind by Elizabeth Tammi
I literally cannot describe how excited I am to have an eARC of this (that I haven't read because I want to read it closer to the release date), but I'll most likely get a paperback copy as well when I can afford it because it's beautiful. It's also a Greek mythology F/F book with huntresses of Artemis, so really, what else do you need?
Daughter of the Sun by Effie Calvin
This is the second book in the Tales of Inthya series (first book is The Queen of Ieflaria), and it doesn't have a cover or a Goodreads blurb yet, but I know I'm going to love it anyway because 1) I adore the author's writing and characters, 2) it's F/F and fantasy. I can't wait to meet the brand new characters Effie will make me fall in love with.
Your biggest disappointment
Let's Talk About Love by Claire Kann
Listen. This book wasn't bad. And it's an incredibly important book with a Black biromantic ace protagonist and a beautiful dark-skinned, happy Black girl on the cover. The only reason it's a disappointment is that I expected it to be an easy 5-star read and it ended up being more 3.5 stars instead.
Biggest surprise of the year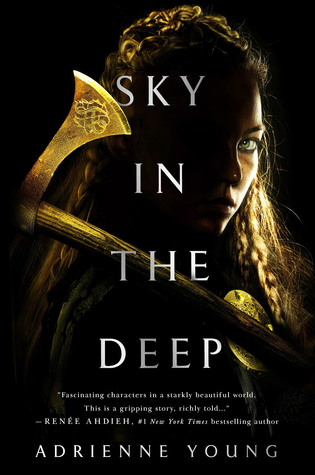 Sky in the Deep by Adrienne Young (link is to my own review)
I wasn't expecting this book to live up to the hype because it kind of looked like a generic, gritty fantasy without any LGBTQAI+ characters and lots of violence and cold and whatever, but it surprised me with how much I ended up loving it. I was right about it having no LGBTQAI+ content, but it did have wonderful family dynamics (both blood and found), discussion about honor and forgiveness, communities working together, and treating your enemy with mercy. Despite the cold and the violence, it ended up being a much gentler and hopeful book than I expected.
The Art of Escaping by Erin Callahan (link is to my own review)
This book was a surprise because I kind of really hated the first 30-40%, but once it picked up, I ended up loving it. It's about a teen girl who wants to be an escape artist so she seeks out the daughter of a famous escape artist and begs her to teach her, while also acquiring an assistant in the form of a gay boy from her school. It has multiple perspectives, and I loved how Mattie and Will sometimes told the same events very differently. I also loved the little diary entries at the beginning of every chapter, and all the hints to the relationship between Miyu and her famous mother. Extra shout out to the little shit 14-year-old whose every sentence was golden.
Favourite new to you or debut author
The Radical Element edited by Jessica Spotswood (link is to my own review)
I'm going to grab this chance to talk about The Radical Element here because it was one of my favourite reads of the year but I couldn't really fit it into the other categories. It's a historical fiction anthology with all-female leads, with 12 authors who both wrote very strong, compelling stories. I rated most of the stories 4 or 5 stars and I definitely found several authors whose other works I'll be checking out after this. Special shout out to Marieke Nijkamp, whose story, Better For All The World was one of my favourites.
Your new fictional crush
Xandri, Diver and Kiki from Failure to Communicate + Tone of Voice (links are to my own reviews)
So, I don't really do book crushes, especially because I mostly read YA and the characters are mainly teenagers. But I adore Xandri, and there's just something about seeing both Diver and Kiki through her eyes that makes it impossible (for me, at least) to not have a crush on all three of them. (I cheated and put the sequel's cover because I just love the big not-whale and Xandri floating in front.)
New favourite character
Xandri from Failure to Communicate
I just can't /not/ put Xandri here. She is such a strong, complex, incredibly powerful protagonist – a bisexual, autistic polyamorous woman who is the best at her job and her way of saving the world puts her above AIs specifically designed for this task. I am also told by many #ownvoices reviewers that she is great representation for both autism and people with synesthesia.
Murderbot from The Murderbot Diaries
I already explained this several times above, so let me just repeat myself: wonderful, relatable android with anxiety who just wants to watch Netflix in peace, but also has a great sense of responsibility towards its humans.
Rin from The Poppy War
Rin was such a wonderfully complex protagonist – not always likeable, not always good, far from perfect, often desperate, sometimes ruthless and maybe even cruel. And yet, her determined mind was honestly the best thing about this book.
A book that made you cry
The Freeze-Frame Revolution by Peter Watts (link is to my own review)
So, this book somehow made its way to this list after all. It's difficult to really talk about why it made me cry without spoiling it, but to anyone who's already read it: the keyword is dancing. As well as this little exchange: "I'll kill you if I can." "I'll save you, if you let me." This is a sci-fi novella about artificial intelligence – or maybe artificial stupidity? – that takes place over sixty million years. Yes, you read that right.
A book that made you happy
The Ship of the Dead by Rick Riordan
Yes, this is a repeat, but listen. Best slowburn romance with a bi/pan protagonist and a kickass genderfluid love interest, with extra cute sibling interactions and Norse mythology. (What do you mean there was a plot besides my favourite characters being awesome? I didn't notice.) Also, the ending and the direction Magnus chose to take his inheritance couldn't have made me happier.
Your favourite book to movie adaptation that you've seen this year
Black Panther
Okay, look, comic books are books and this absolutely counts. I watched it with my Dad and even he liked it. The story, the characters, the real African culture and the almost all-Black cast was all beautiful – but most of all, I adored the colours. Superhero movies are so often gritty and dark, not just in story, but also visually. Black Panther was vibrant with colour, in every scene, every dream sequence, every marketplace.
Favourite book post you've done this year
I actually only started being active on my blog in the last few months, but I still managed to a few posts that I'm really proud of, so here are my favourite non-review posts:
The most beautiful book you've bought/received this year
Baker Thief by Claudie Arseneault
So much purple, and fat protagonist with a cape, and just overall such a beautifully drawn cover okay.
Let's Talk About Love by Claire Kann
This book gets a spot here despite me not enjoying it that much, because the ace colours, the dark-skinned happy Black girl and the ace pun on the cover is just too good.
What are some books you need to read by the end of the year
This tag is incredibly long and it's almost midnight when I'm writing this so I'm just going to list some of the oldest books on my TBR that I have been meaning to read since forever but keep putting off. Please don't yell at me. Yes, I know they are great, yes, I promise I'll read them. Eventually. (I actually own physical copies of all of these, which is rare because I mostly read ebooks.)
Six of Crows
The Gentleman's Guide to Vice and Virtue
The Long Way To a Small Angry Planet
Good Omens
How To Make a Wish
Huh! That was long. What was your favourite book this year so far?
~ Alexa