I saw this book tag on Cats and Paperbacks, and it was originally created by Common Spence. When I saw this tag, I immediately knew I had to do it, both because I'm queer and because it's Pride month, so it fits perfectly. (Then I realised some of the prompts are pretty hard, but hey, no turning back.)
 🍎 1. Red (Life) – A book with a spirited protagonist totally proud of who they are. Someone who gives you LIFE
Okay, listen. I know it's starting to look like I have only ever read this one book in my entire life. I know. But who would be more perfect for this prompt than Evelyn? Punk rock superhero, transgender woman Evelyn with two wives and their kid who would do anything for her family? (She's the one in pink on the cover.) Evelyn, who leads her community and helps everyone else find their truth and have hope?
📙 2. Orange (Healing) – A book that made you, as the reader, find a deeper meaning or catharsis in your own life
This is tough, because as much as I love reading books, I never really… relate to books or fictional characters. I enjoy books for their story, but not because they relate to my own life. Even with biromantic or asexual books, I rarely have that "oh, this is exactly me" feeling. In fact, the only two examples I can think of are not from books but from a visual novel app – Alex Cyprin helped me realise my own nonbinary identity, and Starship MC's anxiety is very relatable. I also loved that in a recent episode, she started her self-deprecating spiral as she usually does, then stopped and went "no, you know what, fuck that, I have friends who love me and count on me, I can do this". That moment was unexpected and hit me. I hope I get to that point someday. (Also, they're both queer: Alex is nonbinary and Starship MC is bisexual.)
🌻 3. Yellow (Sunshine) – A book that fills you with so much joy it could brighten even your darkest day
I already used Chameleon Moon, so I'm gonna go with "everything RoAnna Sylver has written in that universe ever". Alternatively, there's just something about Sacha Lamb's writing style that is absolutely magical and always makes me laugh. Unfortunately, this author only has two published novellas/short stories so far: Avi Cantor Has Six Months to Live, and Miss Me With That Gay Shit (Please Don't) – the second appeared in the first volume of the Queerly Loving anthology, and isn't that title just the best? I'm also subscribed to Sacha's Patreon so I had the pleasure of reading several unpublished short stories that are all awesome, and most of them have Jewish gay trans boys.
💚 4. Green (Nature) – A book that is set out of this world — a reality different to our own
I'm not sure I understand the connection between the prompt and the colour meaning, but okay… A book recommendation that isn't in our world. I can do that. The obvious answer would be The Queen of Ieflaria, which takes place in a fantasy world with queer princesses who are both badass. But I keep recommending that book (because I love it so much), so let me also mention Failure to Communicate and The Cybernetic Tea Shop, which are both amazing sci-fi books with queer women mains. (FtC has a bisexual autistic woman, and TCTS has two sapphic ace protagonists, one of them is an android.)
💙 5. Blue (Peace) – A book where one of the characters finds peace with a difficult truth
This is actually a book I haven't read yet, but I'm hoping to read it this month, and it has a bisexual girl as the main character. In Omen Operation, Brooklyn and her friends have to come to terms with the fact that they've been lied to about the state of the world. Also, in Ardulum: First Don, Neek has to come to peace with the fact that there may be something to those gods and legends she refused to believe in. I've read the first book, and I have a copy of the second one, so I should pick that up soon… Although there isn't much romance or reference to sexuality in the first one, but I already kind of suspect what the main F/F ship is going to be and I don't particularly like it.
💜 6. Purple (Spirit) – A book that deals with LGBT+ themes and religion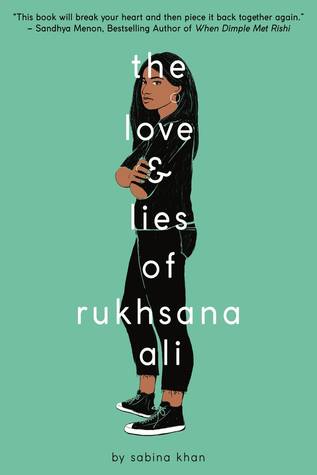 I'll be honest: I'm really not comfortable reading books that center religion, especially Christianity, so I can't really think of anything from the books I read. So let me just recommend you a book that comes out in 2019, and it's about a Muslim girl who likes girls: The Love & Lies of Rukhsana Ali. I obviously haven't read this book yet, but I'm really looking forward to it.
(Minor shout out to the Magnus Chase series by Rick Riordan, which has a Muslim girl with a genderfluid non-Muslim sibling, but it's not ownvoices for either aspect.)
How's your Pride month reading going? Have you read many books with LGBTQAI+ characters? What are some you're looking forward to?
~ Alexa
Oh, and for this post: I'm shyly tagging Avery, Dorka, Lia, Laura, RoAnna and Aurora! And everyone else who wants to do it 🙂