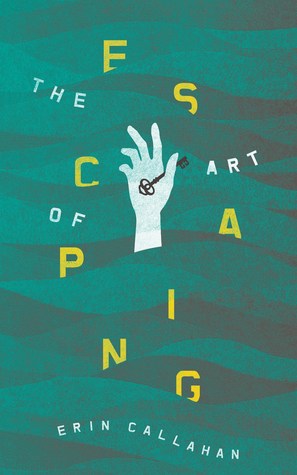 Title: The Art of Escaping
Author(s): Erin Callahan
Series: none
Genre: Young Adult, Contemporary
Published: June 19th 2018 by Amberjack Publishing
Purchase: Publisher | Amazon | Book Depository
LGBTQAI+: Gay teenage boy as secondary POV character
Sex on page: None
I received an ARC through NetGalley in exchange for an honest review.
Seventeen-year-old Mattie hides her obsession with Harry Houdini and Dorothy Dietrich from everyone she knows, even her best friend. Then her best friend takes off for summer boarding school and all of Mattie's anxieties bubble to the surface, leaving her feeling adrift. To distract herself, she seeks out Miyu, the reclusive daughter of a world-renowned escape artist whose life and career were snuffed out by a tragic plane crash.

With Miyu's help, Mattie secretly transforms herself into a burgeoning escapologist and performance artist. Away from the curious eyes of her peers, she thrives in her new world of lock picking, straitjackets, and aquarium escapes. But when Will, a popular varsity athlete, discovers her act at an underground venue, she fears that her double life will be exposed. Instead of outing her, Will tells Mattie something he's never told anyone before. But not all secrets can remain secrets forever.

Told through multiple perspectives, this funny and fresh debut explores the power of stage personas and secret spaces, and speaks to the uncanny ways in which friendship transforms us.
Rating: 4.4 stars
The Art of Escaping is a young adult novel about finding your passion, focusing on a very unique art: escapology, or escape art. I was intrigued by this book both because the topic sounded like something I've never read before, and because I heard that one of the POV characters is gay.
To keep this review honest, I need to admit that I didn't really enjoy this book at first. Mattie, the main character was relatable in that frustrating way that reminds you of all your insecurities, and she was also pissing me off. I didn't understand why she went straight to being convinced that nobody would accept her, sneaking out and lying to everyone's faces without even trying to talk to anybody. Will, the gay side character didn't often get to have a POV, and when he did, he felt pretentious. Mattie's and Will's secrets were portrayed as equal, which was wrong. I almost DNFed the book.
Fortunately, once I pushed through that first part, the book seemed to redeem all its mistakes. Mattie finally started interacting with her friends: Stella came back, Will started hanging out with her, and a new character, Frankie was introduced, who immediately stole my heart. (Seriously, every sentence out of Frankie's mouth is amazing. I love him so much.) Mattie even realised that her secret will never be equal to Will's, which I appreciated. The characters still felt pretentious sometimes and they certainly made bad decisions (looking at you, Will), but they're teenagers, so once the other problems were fixed I started forgiving them for this one instead of being frustrated.
I've always fantasized about being drafted into a shady, international spy organization with no formal ties to the government. This is almost as good.
As the book went on, Mattie went from the uninteresting kid at school to a master escape artist. Even though I figured that the main character is not going to die in a young adult novel, all the scenes (both practice and performance) where she had to escape from something felt tense, terrifying and captivating. I loved the little diary segments before every chapter from the diary of Mattie's role model, and the little reveal about this diary towards the end put everything in a different, even more interesting perspective.
An entire book could be written about Miyu and her relationship to her mother: it would be a really sad, but certainly a really fascinating book. We only caught little glimpses of Miyu's thoughts and true emotions, but I really would have loved to learn more, especially because some of it really resonated with me. God knows "emotional quicksand" is something I experience daily.
Sometimes, I'd watch her stand on the threshold, trying to force her feet forward, stuck in some kind of emotional quicksand.
While most of the book was from Mattie's perspective, we had the chance to see some of the scenes from Will's POV as well, and this was especially interesting when the two of them didn't exactly on agree on how things went down. Nothing is funnier than when one character makes a dramatic assumption of somebody's thoughts, and that person goes "yeah, that's not what I was thinking at all".
Will made some bad decisions before coming out and it all caught up to him in the end, but I liked how he really owned up to his mistakes when it mattered. He came out several times in the book (five, I think?) and all of them were somehow different based on the situation and the person, which I really loved to see. People like to think coming out is one big thing, but in reality, it's lots of little things that keep happening every time you meet somebody new.
If I come out in high school, I still have to come out in college, and then at work. It's like I'm facing an endless line of people assuming I'm something I'm not. And it's great that more and more people are cool with it in this day and age, but I'll always have to deal with the possibility that someone won't be. And what if that uncool person ends up being my college roommate, or my boss, or my father-in-law?
One thing that I felt unsure about was the way Will's mother was openly fetishistic towards gay men – it was presented as a bad thing, but I sort of felt like it was presented more as an annoying quirk than the really bad thing it should have been? And it only came up a couple of times and was never resolved in this book. I'm not sure if there's going to be a sequel here, but that is definitely one of the plotlines that wasn't closed in this one.
Notes:
There were a few lines in the ARC I read that made me feel really bad, but I learned that the author chose to remove these lines from the final version after another reviewer pointed it out, so points for listening to feedback.
~ Alexa